Press Release - Save Tara Campaign - Thu Mar 20, 2008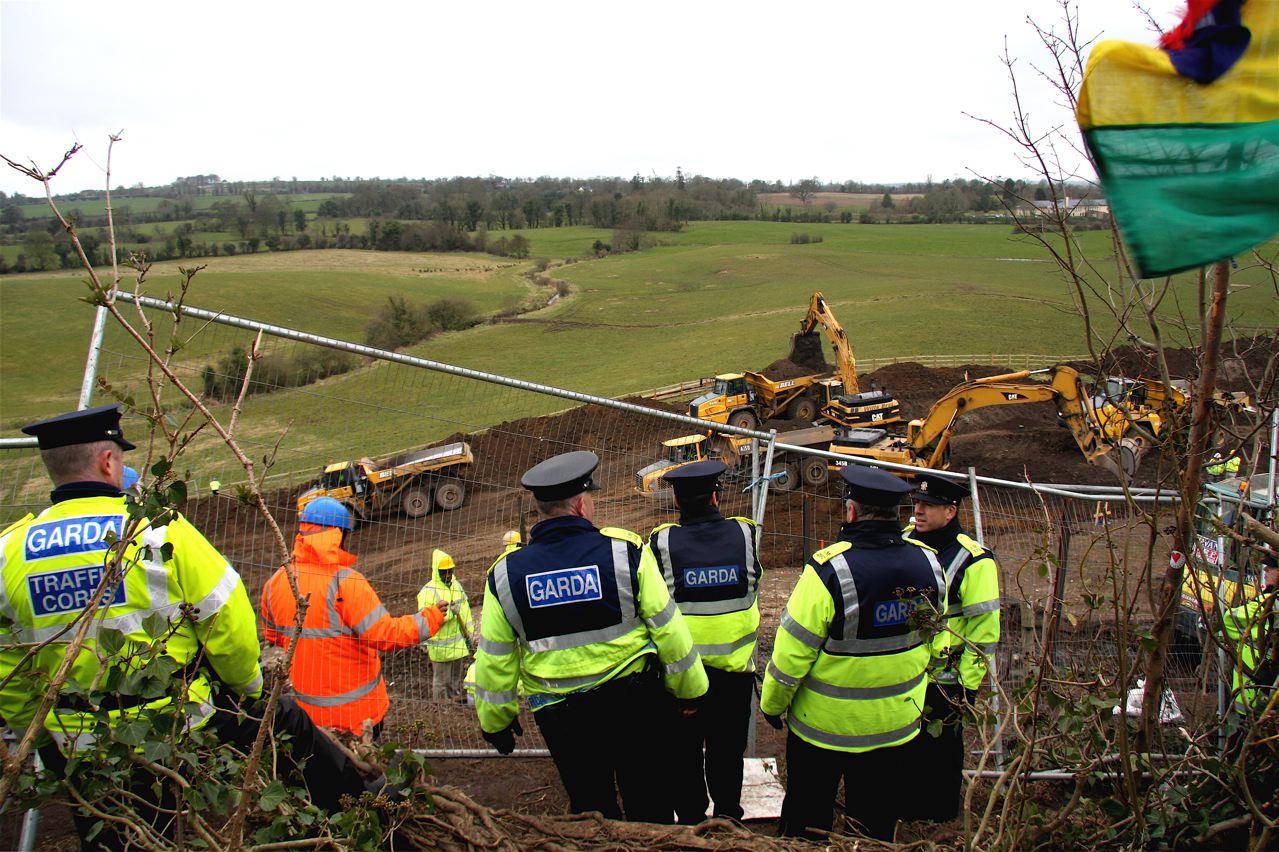 In a move described by protesters as 'extremely provocative' the National Roads Authority today breached the agreement reached with protesters last week by moving heavy machinery into the area at the base of the esker at Rath Lugh in Co. Meath.
The NRA are denying that any agreement was made with Lisa "Squeak" Feeney to cease all work in the area for a month. Lisa maintains that a written agreement was made with Kevin O'Rourke that included a month's moratorium on any work in the area of Rath Lugh and its environs. Michael Egan of the NRA is reported as denying that this agreement exists.
'The NRA have proved themselves to be dishonest and underhand in breaching the agreement made for a moratorium on works in this area last week.' said Lisa Feeney of the Rath Rugh Direct Action Camp this morning.
Minister for Environment and Local Government John Gormley had just left the site at around 9.00am shortly before the diggers moved in. Minister Gormley had been advised by his officials not to visit the actual site of the controversial works. He was accompanied by members of his department and an archaeologist from the National Monument Service.
He was shown the maps and diagrams from the Golder Consultant's Report that recommended an engineered 'crib wall' to secure the esker area that forms the base of the monument at Rath Lugh.
Minister Gormley and his officials left the area at 9 am. At 9.30am three diggers arrived at the esker accompanied by 50-100 gardaí and construction workers. Three riot vans are currently is the area also. The woods at Rath Lugh are swarming with gardaí and security.
'It is an affront to democracy that the NRA, private security personnel and Gardaí should move against peaceful protectors in such an aggressive manner as soon as a Minister of the Government has the left the site and is unable to witness it.' said Michael Canney of the Campaign today.
more:
http://www.indymedia.ie/article/86756