Today the Gardaí stormed and dismantled the camp at Rath Lugh. Protestors say the Gardaí are being "vicious." At least three people have been arrested, two of them dragged down the unstable esker. Five more have cemented their arms to the fence. It is unclear whether they have cut off the power and, hence, the air supply to Squeak, the brave young woman we saw interviewed in
the tunnel video.
Squeak on the ramparts at Rath Lugh, before entering the tunnels below the proposed roadway
The Gardaí and Road Crew first told the media they would not try to remove our warriors from the tunnels. But last update has the fire brigade arriving en masse. Squeak is now locked by the neck to the jack holding up the roof. If they attempt to pull her out, the tunnel will collapse. She may already be fighting for her life, if they have cut off her air supply. They are risking her life to build an illegal, unnecessary road that no one really wants. Either they don't understand, or they don't care, that Tara is important enough that these brave Irishwomen and Irishmen are willing to die to prevent further desecration to our sacred sites. Would they bulldoze Delphi to shave ten minutes off their commute?
Updates are coming in so quickly, I can hardly keep up. This is a very tense situation, a turning point in the campaign, a moment when probabilities and possibilities shift. Can we take advantage of this to save Tara and Rath Lugh? Get there if humanly possible (see my
earlier
posts
for more on that). If you can't get there, please do whatever you can. Spread the word, send supplies, call and write, pray and work magic.
As usual, keep an eye on
Irish IndyMedia
(put "Tara" or "Rath Lugh" in the search box) and the activist lists,
Sábháil Teamhair (Save Tara)
and
Hill of Tara
. If you are in Ireland, you may have already seen the coverage on
RTÉ news
. If nothing else, this has finally motivated the mainstream media to get involved. Let's just hope it won't also take martyrdom to save the Tara Skryne.
Some stories so far today:
*
All out Emergency - The Battle of Rath Lugh (Indymedia)
*
Rath Lugh Front Line Eviction - Eviction in Progress (Indymedia)
*
Injunction to stop Rath Lugh work refused (RTÉ)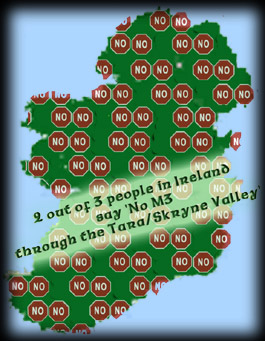 Edited to Add: More from Indymedia
The situation 3 minutes ago
author Muireann Ni Bhrolchain publication date Thu Mar 13, 2008 14:53
A protester has been arrested - she has been released. She is not the same woman as that in the tunnel.
Straight from the protest site: things have calmed down. The Fire Brigade are well gone, will not make any attempt to remove the girl from the tunnel.
A tent will be erected at the entrance so that one other protester can communicate with her.
No effort was or will be made to remove her.
There are still 5 other people locked on with cement.
There is a small digger and steam roller as well as 18 jeeps at the site.
Nothing is driving on the esker.
They are tripping over media and cameras!
There are flood lights being brought in.
Court case being heard again at 2pm.
So, it looks like despite the hell the protesters have gone through today, due to the bravery of our tunnel pixies, we finally have mainstream media taking notice. Hopefully this will stall the illegal diggers and steamrollers long enough for the injunctions to finally be enforced.