From someone who braved the storm, and has friends and relatives in some of the worst-hit areas: Thank you to those who gave their lives to save others during this disaster. Thank you to those who took personal risk to help your families, friends and neighbours get through this. Thank you to President Obama who worked with Governors Christie and Cuomo to eliminate red tape and get help to the people.
My political work is usually more grassroots than mainstream, and I don't fit easily onto the American Left/Right, Dem/Repub spectrum. I'm registered as an Independent. But if it wasn't clear enough before the storm: One party wants to rebuild our infrastructure and support our police, fire and rescue workers, including their right to have unions so they can get paid even a fraction of what they are worth. The other wants to eliminate FEMA and cut the number of law enforcement and rescue workers, and further reduce the pay of these heroes and heroines. Our country is already struggling with poor infrastructure, and we can't afford to have it destroyed yet more. Hurricane Sandy, like Katrina, is not a freak storm. It's going to keep happening. And we need people at the helm who are smart enough and moral enough to work together to do what needs to be done. I ask everyone in the US to please bear this in mind on Tuesday.
---
ETA
:
Friend of a dear friend, who made the ultimate sacrifice
:
Artie Kasprzak, 28, who drowned rescuing seven family members, including his 15-month-old son, from the raging flood waters on Staten Island.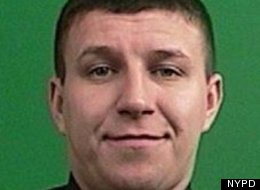 Lakota Youth from Pine Ridge help NYC recover
:
"They could have stayed dry and clean in one of the distribution areas handing out supplies but these Natives come from a place where helping your community is a daily duty. "We come from a hard place to live" says Coach Pine. "Many of our elders go without heat, electricity and hot water every day, we know what is needed in situations like this." And so they did, clearing a complete basement of moldy sheet rock and rugs in 30 minutes. As they helped a Chinese husband and wife who barely spoke English the man turned and asked "Who are these people?" A Road Runner staff member replied, "They are American Indians, they come from a community which is the poorest place in America." The man replied "I am honored they would come to help me." Jeff Turning Heart said, "At first I was sad the race was cancelled but coming here and seeing all these people working together made me feel proud to be part of it. We know how to survive in desperate situations and have the skills to assist these people in need. I know I am stronger from this experience."
Nupa White Plume, helping Hurricane Sandy relief efforts
photo by Cliff Matias, ICT